Service Offering - Information Technology Strategy
The biggest challenge IT directors face is making a value adding linkage between the IT agenda and the business agenda. Having a mindset that can translate between these world views is critical.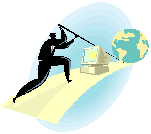 Engagement options :
Review of the applications portfolio and deployment strategy.
Review of infrastructural status and development strategy.
Assessment of the information technology priorities and opportunities derived from business needs.
Convergence between the actual infrastructure and applications portfolio with best practice models.
Contracts, supply agreement development and supply review processes.
IT steering committee development.
KPI's and measures of value.
Organization design and development.
Choice of programme priorities that reflect business needs.
Typical Duration : (contingent on operating unit complexity and system capability)
Typical Sponsor
Director or Senior Director IT or General Manager.